Before I get stuck into this, an intro.
Super Robot Taisen Z was a PS2 title released back in 2008, quite late in the console's lifespan. At the time, it was suggested that Z was going to become the start of a new series of SRT games, unlike the standalone titles being released for the DS (W, K & L), and numerous hints were dropped during Z's story that despite the rather happy resolution to the conflict, things were probably going to get a lot worse before they get better.
Z was a little different in construction to the SRT games I'm used to. In something like the Alpha series, by a major coincidence, the plot of each of the included series just happen to all be occuring in the same universe at roughly the same time as needed by the plot. Z threw this convention to the wind a little by having a varety of different universes with different series happening in them and then smashing them together via the Space/Time Oscillation weapon as seen in
Super Dimension Century Orguss
. This allowed for some quite radically different settings, such as the post-apocalyptic wastelands of
After War Gundam X
and the much less exploded setting of say,
Gravion
, to exist on the same planet Earth. This means the plot can function less on contrived co-incidences, and more on the characters as they fight together. Or something. Anyone interested in reading about the story for the previous game can browse through MNeidengard's excellent storyline walkthough on GameFAQs
here
.
The series list for SRT Z2 looks like this (Sourced from TVTropes). Bold indicates series debut:
Overman King Gainer
The Big O
Invincible Superman Zambot 3
Invincible Steel Man Daitarn 3
Combat Mecha Xabungle
Mobile Suit Zeta Gundam (Curiously, the TV series replaces the more recent movie here)
Mobile Suit Gundam: Char's Counterattack
After War Gundam X
∀ Gundam
Mobile Suit Gundam SEED Destiny
Space Emperor God Sigma
Genesis Of Aquarion
Super Dimension Century Orguss
Space Warrior Baldios
Chōjūshin Gravion Zwei
Invincible Robo Trider G7
Six God Combination Godmars
Armored Trooper VOTOMS (The Last Red Shoulder\Red Shoulder Document\Roots of Ambition\Pailsen Files)
New Mobile Report Gundam Wing (TV series)
Mobile Suit Gundam 00 (Season one)
Dancougar
Dancougar Nova
Getter Robo Armageddon
Shin Mazinger Impact! Z Chapter
Earth Defence Enterprise Dai-Guard
Psalms of Planets Eureka Seven: Pocket Full of Rainbows (Replaces the series)
Code Geass Lelouch Of The Rebellion (Season one)
Tengen Toppa Gurren Lagann (Gurren-hen)
Macross Frontier (The False Songstress)
The world that SRT Z2 starts on is a little confusing, the Britannia-Union, the Advanced European Union (AEU) and Human Reform League (HRL) fight among themselves, and the mysterious "Dimension Beasts" keep appearing and making a mess of things. There are two moons, and two versions of Japan, one occupied by the Britannia-Union called Area 11.
Our original character this time around is the (renamable) Crowe Broust, an incredably unlucky army veteran (At 22!) who is a million credits in debt.
I've currently reached the end of Stage 5 (Of 50) after 17 total turns and initial impressions are extremely good. While the change from isometric maps with 3D map sprites to 2D maps with (extremely good looking) 2D map sprites is a little jarring, the actual battle graphics are smooth and a joy to behold. At this point, the only thing I think i'll miss are the large character portraits during the long talky segments, but they probably wouldn't work too well on the PSP's screen size.
More to come later.
22/04/2011 - I've now cleared Stage 9 with 37 total turns taken. I'll spend a little time rambling about the storyline and my thoughts up to this point, so if anyone doesn't care, might be a good idea to stop paying attention now. I'm going to try and follow the story as much as I can before it dissolves into something not even I can keep up with.
So yes, main character, Crowe, looks like this:

Hard to believe he's only 22 with a character design like that. He's bumming around Chicago, holding his last 1G coin. He left his army job when his father fell ill, but was unable to make it to his deathbed in time, leaving him with a hefty million debt. When a debt collector shows up, Crowe mentions that the only reason he doesn't try to have it written off is because he wants to pay back his parents for raising him (Riiiiiiiight).
When terrorists attack a nearby development lab, Crowe is able to convince the lead scientist Tria Scott to become an emergency test pilot for Axion Foundation's new prototype, the Brasta. When Dimension Beasts show up as well, Tria mentions that the Brasta is the first in the line of Anti-DM units, and tasks Crowe with testing the unit against them.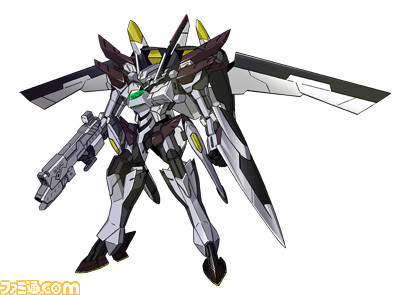 The Brasta (Can also be localized as "Blasta/Blaster", but this name will make more sense later, trust me on this one).
At the end of the first stage, Tria gives Crowe the option of developing the Brasta as a melee unit, or as a range unit, which effects which attacks it has access to and which animation it uses for certain attack animations. I went with the ranged option. I'm already a big fan of Crowe's character design. He's got a snarky personality, and a very cavilear attitude towards things like ammo conservation, which puts him at odds with more disciplined characters. The Brasta is quickly becoming a favourite, if only for Crowe's reckless disregard for his own ammo supply.
My route split choices so far, one after Stage 2 and another after Stage 4 have introduced me to Celestial Being of Gundam 00, Team D of Dancouga Nova, and the Getter Robo boys (The slightly insane ones from Getter Robo Armageddon). Stage 9 begins to bring the routes together again, and gave me access to Zero's little revolutionary army (Code Geass, before the formation of the Black Knights), along with Heero Yuy and Duo Maxwell of Gundam Wing.
Misc Notes:
- In the first 9 stages, Crowe has been shot down no less than 3 times in various story events.
- While the AEU are known for their "Hellion" mobile suit from Gundam 00, they are also using the notoriously flammable Leo from Gundam Wing.
- When Crowe is accosted by OZ during Stage 3, they are making use of Armored Troopers from VOTOMS.
- Chirico, the main character of Armored Trooper VOTOMS is among the Red Shoulder enemies in Stage 4 along with his squad from that series. A short side event after the mission ends sets off his story, and he is among the characters Zero brings with him during Stage 9.