Yay, getting back to this one after many years. I had to give up on it almost a decade ago because my Japanese wasn't up to snuff. Now I'm having no problems
---
So we start with a decent sprite-animation FMV sequence, which is pretty darn good for a GBC game. It takes up about the first 50 seconds of this video: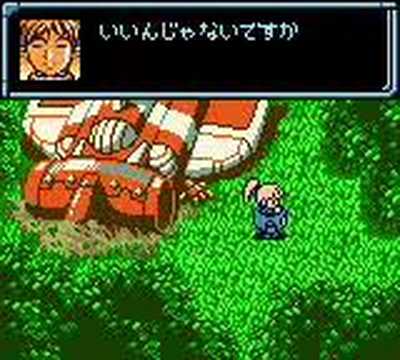 The story is that Opera and Ernest, the two Tetrageniot adventures who crashed into the middle of Star Ocean 2 once upon a time, have gotten themselves lost again on some far-flung world, and their friends received a distress signal soon after. Young Precis does her best to land the space ship in mostly one piece, but the engine is a total loss. Now the search is on for their missing friends as well as some means of either repairing or replacing their ship for the trip home.
From the very beginning, we have the following characters available:
Precis F. Neumann -- mechanical genius, spoiled brat, and nominal main character at the start.
Ashton Anchors -- still has those two dragons on his back
Bowman Jeanne -- kick-butt pharmacist
Chisato Madison -- intrepid reporter lady
Celine Jules -- magical lady of mystery
Noel Chandler -- animal lover
Leon D.S. Geeste -- the other resident genius
Dias Flac -- swordsman who takes stoicism to new heights
I'm free to stop by the spaceship at any time via teleporter to switch out party members, and the game pools Skill Points that can be used on any character to increase a skill level and add some ability points.
----Scute Village and the Ruins of Maille----
Right off the bat, just as the party is discussing the need to determine if there's anyone even living on this piece of green-covered rock, we run into a native kid. He promptly runs away. A few screens later, after a fight with a Kobold and some fuzzy tribble-things, we get to save the kid from another Kobold. This gets us a meeting with his grandpa the elder of Scute Village as well as some necessary background information.
Apparently there are ruins scattered all over the world, leftovers from a previous civilization. Wondrous items, known colloquially as Gifts, are sometimes found in these ruins, so the adventuring business can be quite lucrative. The eastern exit of Scute is currently blocked, but there may still be some usable ordinance in the nearby Ruins of Maille
The ruins are pretty well excavated by this point, and the big dangers are the Land Worms and the Guardian robots that still wander its halls. It's easy enough to first locate the room on the second floor where a Kobold has the Maille Key, then use the key to get access to the stairwell, and finally reach the back room on one of the higher floors that has a switch to activate the escalators. There are a few doors that won't open yet because they don't have power reaching them, so it might be necessary to revisit this place sometime. Certainly, I couldn't find a way to reach the side room with a treasure chest and a Green Dragon, but I could still get close enough to observe them and use Noel's field ability to glean the details of the thing for the monster index. It's... probably a good thing I can't reach it right now.
In the final room, there's a nasty monster. It's so nasty that, when we first arrive at the room before it, it's quickly throwing what's left of the previous adventuring party back out the way they came. The elder's brat of a grandson was sneaking around before, though, and now he's stuck in there with the monster. Time to kick butt!
--Guriguri--
It's... sort of a giant rat thing with drill bits on its tail. Big and nasty, so it's a good idea to have your command character be someone who can defend and tank in front while Celine is in the far back readying fire bolts. It also gives 160 Skill Points when defeated, which is about twenty times more than anything else so far in the game.
The brat is safe, and we've found some Gifts! One is a weird lepoid computer called the Rabbicom, which I haven't found a use for yet. The other is a spare bomb. All I have to do is switch out someone's regular B-button field skill for "Bomb" (easily done in the menu), then destroy the rubble in the far bottom-right of the screen, one screen south of the elder's house. Now we're on our way to the jungle!