If this is your first visit, be sure to check out the
Forum Rules
. You may have to
register
before you can post: click the register link above to proceed. To start viewing messages, select the forum that you want to visit from the selection below.
Welcome to RPGamer's new forums running under Vanilla Forums! If you're run into any odd or strange issues after our software migration please see
this thread
for details
I found a Playchoice 10 aracde machine
I really wanted to get the wall of arcade games in my room but due to current circumstances it may never happen. I got this a couple of months back but wasn't gonna post it until I got the monitors fixed: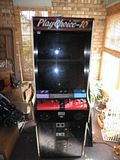 almost every time I say I have this people ask me what it is. To put it simply it's the arcade version of an NES that takes the games on specifically made chips. About 50+ games were made for it and you can put in 10 at a time which run on a per credit timer. I have 11 games and I'm working on the light gun and I want to get them all...
FFXI Character name: Shadowneko Server: Quetzalcoatl Main Jobs: lvl 76 THF, lvl 95 Summoner, lvl 39 Dragoon
My VAPS Entry
,